<![if !vml]>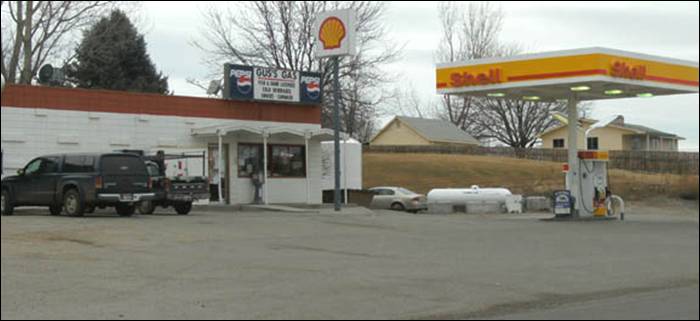 <![endif]>
Gus's Gas
110 Highway 78 – Grand View, Idaho – Phone 208-834-2487
   Gus's Gas initially started out as Gus's Barber Shop and Grand View Laundry Mat in 1969, by Richard "Gus" and Linda Gustavson.  In March, 1978, because of a need for a gas station, a regular and supreme gas pump was installed and the business became known as Gus's Gas. About six months later they added diesel & propane.
   In 1979 Gus put in a car wash and then expanded the store to include fishing and hunting supplies. When Gus passed away in 1994, Linda closed up the laundry and barber shop.
   Gus's Gas has an assortment of fishing equipment and supplies to accommodate the trout fisherman to the heavy duty sturgeon fisherman. They also sell fishing licenses and duck stamps. There is also a selection of tools, automotive accessories and a small convenient store.
   Gus's Gas is a great business and Linda is in hopes of selling it so she can retire. "I have made a lot of friends over the years and appreciate the loyalty of all the people that have made this business such a success," said Linda. "When I do retire, I will miss them all!"