<![if !vml]>

<![endif]>
Hiler Brothers Wholesale Fuel Co.
495 North 2nd East – Mountain Home, Idaho 83647 – Phone 208-587-5416
   Fred W. "Tom" Hiler and his brother John started in the oil business in Mountain Home in1961 at a service station about where the underpass is now. Four years later they moved across town to the corner on north 2nd East and East 5th North to a 'ranch style' service station that was built in 1956. (Today it is one of the few 'retro-fifties' buildings in town.) In the next couple of years they bought the Pierce Oil Co., a wholesale fuel business. Pierce Oil had been in business in Elmore County since at least 1932 and its beginnings can be traced back before 1926. Over the years Hiler Brothers have incorporated other oil distributorships into their company.
   Today Hiler Bros. Wholesale Fuel is still run from the ranch style Texaco Station at 495 North 2nd East and has been in business for 46 years with their Wholesale Fuel business having its beginnings over 81 years ago and is one of the oldest continuously operated establishments in Elmore County.
  Hiler Brothers Wholesale Fuel Co. supplies a broad line of high quality gasoline, diesel and heating fuels along with oils, greases and special oil products to agriculture, business, industry, home, ranch, recreation and development and other sectors of the economy. The Company is owned and operated by pioneer families… That has been part of Idaho since 1864. Locally owned and operated by families that are involved in the local communities. We appreciate your business.
Use coupon below, tell them it was on "Elmore County Press" website.
<![if !vml]>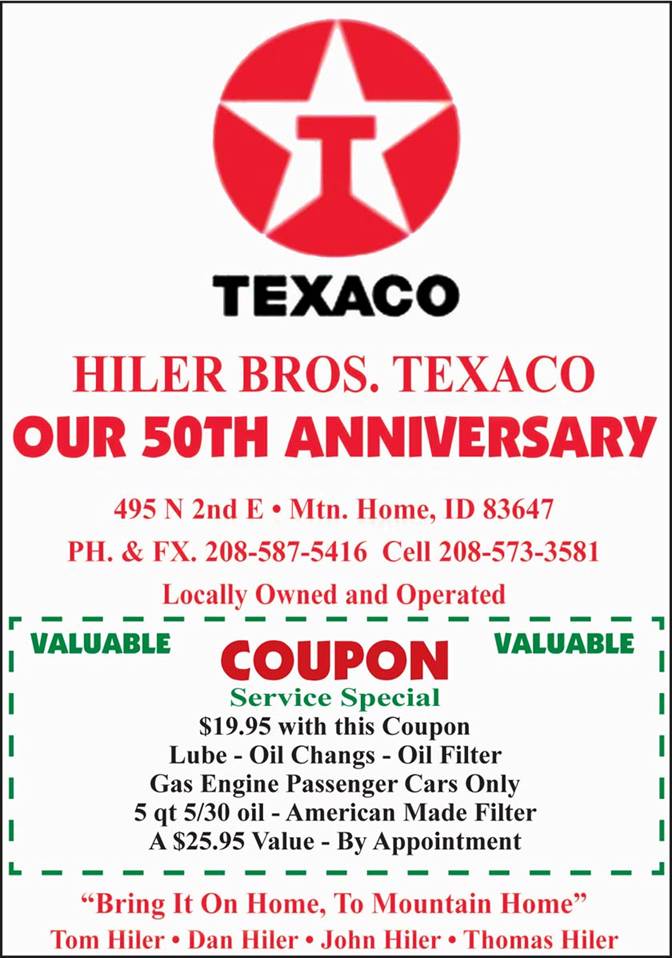 <![endif]>