<![if !vml]>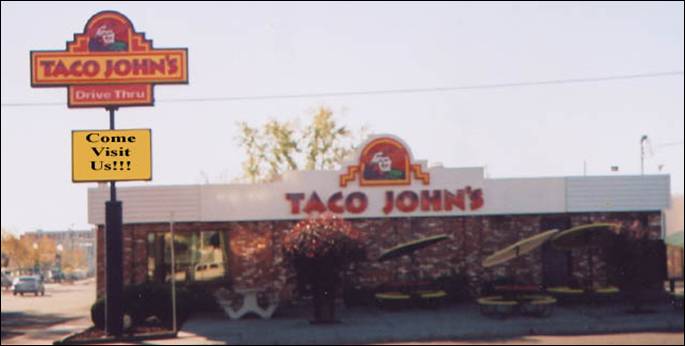 <![endif]>
Taco Johnís
400 North 3rd East Ė Mountain Home, Idaho 83647 Ė Phone 208-587-5832
†† Before Taco Johnís became what it is today, it was formerly started as The Taco House in 1968 in Cheyenne, Wyoming. Taco House was a huge hit with its customers because of the unique seasonings the products were made with. Taco House was most famous for its mouth-watering tacos and over portioned burritos.
†† In 1969, Harold Holmes and James Woodson bought the franchise rights and changed the name to what it is today, Taco Johnís. Three of the first stores were opened in Scottsbluff, Nebraska; Torrington, Wyoming and Rapid City, South Dakota. Taco Johnís restaurants were focused on being introduced to small rural communities rather than large urban areas.
†† As of today, there are 425 Taco Johnís in 25 different states. The majorities are located in the Central and North Central section of the United States.
†† At Taco Johnís you are going to receive a generous helping of seasoned meats, delicious potato oles cooked to your desire and flavored cheese. They hand fry their own taco shells, salad bowls and nachos daily to ensure the best quality of food to their customers. They are also known for making some of the tastiest quesadillas around town, as well as a much preferred pico de gallo. In fact, they have several customers who come just to purchase their homemade sauces such as their famous super hot and house dressing.
†† In 1976, Taco Johnís of Mountain Home opened and their employees have been striving to provide a fast meal that is delivered with prompt, courteous service and at a fair price. To top all that off, is a generous portion of tasty ingredients. At Taco Johnís they see their customers as family and want them to return and leave with a smile. Great customer service is what itís all about to make it all happen.
†† Taco Johnís Promise: ďWe will always serve a generous portion of high quality, fresh tasting Mexican food for a fair price. Every menu item will be carefully prepared using the best ingredients, West Mex flavor and attitude. Our service will be efficient and friendly, and our restaurant will be clean and pleasant.Ē
Come in for a 5 cent cup of coffee
<![if !vml]>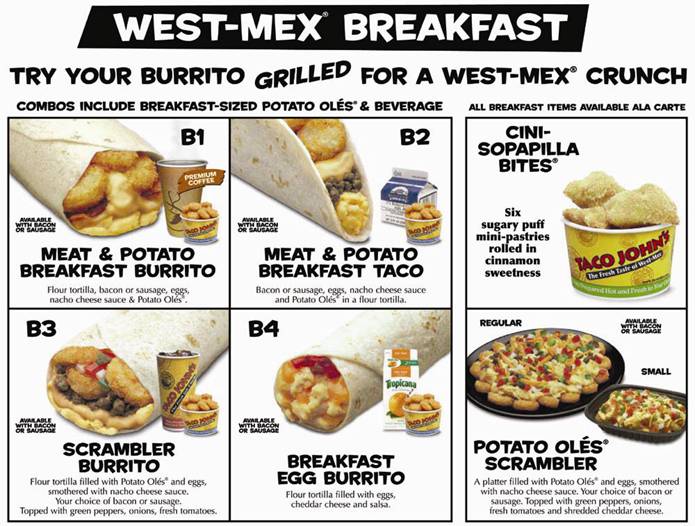 <![endif]>